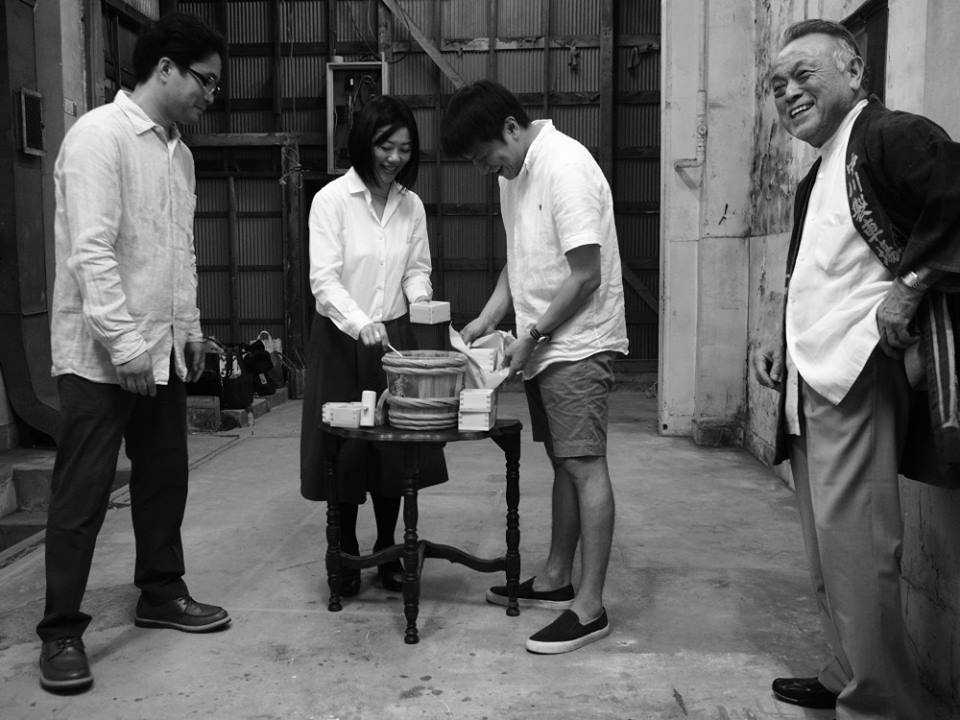 組む東京 鏡開き
胸に中川製車場とあるのは、その頃、うちでは大八車を作っていたから。
職人さん達がこの半纏を置いてくると、ツケで飲めたとか!なんとも良い時代ですね(笑)。
そんな物づくりのDNAを受け継いで、イースト東京のこの場所に新たなエネルギーを吹き込めるようにと、
心の内に祈るのです。
小沼のりこ
We celebrated the commencement of KUMU Tokyo on September 6, 2014 in a traditional Japanese style called "KAGAMI-BIRAKI" in which a barrel of SAKE is shared with attendees after hammering the lid of the barrel. The attendees were those in the inner circle of this project and their family members.
The man on the right with HANTEN (a Japanese, traditional-style jacket) is the father of the owner of KUMU Tokyo, and the HANTEN jacket was found in an old tea box that had been stored in this property for a long, long time. The HANTEN has a company name and its logo, "NAKAGAWA SEISHAJO (two-wheeled, wooden cart maker)," run by his ancestor three generations ago. It was a good, old era in which workers were able to have a drink on a cuff if they left their HANTEN jackets at the bar.
We wish to breath energy anew into this place in the East Tokyo at which the DNA of manufacturing is inherited from our ancestors.
CEO/ Noriko KONUMA